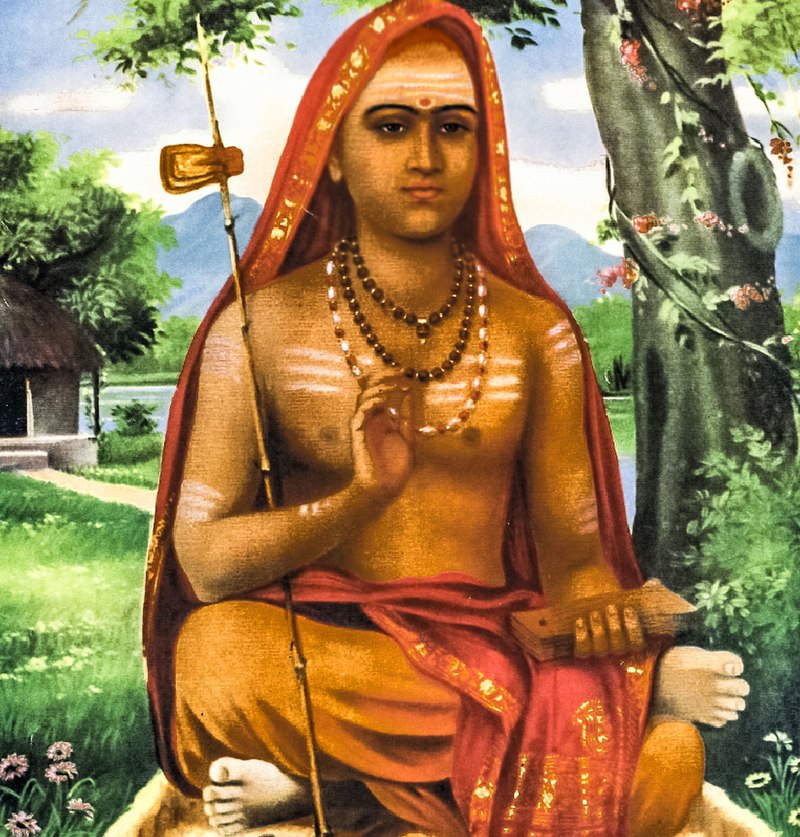 Ocupation: Philosopher
Award: Puraskar Award (2000)
Notable work: Work in Sanskrit
Adi  Sankara
---
Adi Shankaracharya's philosophy was simple and straightforward. He advocated the existence of the soul and the Supreme Soul. He believed that the Supreme Soul alone is real and unchanging while the soul is a changing entity and that it does not have absolute existence.
Shankara, as he was known before becoming a great teacher, was born into a poor Brahmin family at Kaladi, present day Kerala, India. He then went in search of a guru and according to a few ancient scripts, a young Shankara walked at least 2000 kilometers before meeting Govinda Bhagavatpada. Under Govinda Bhagavatpada's guidance, Shankara studied 'Gaudapadiya Karika', 'Brahmasutra', Vedas, and Upanishads. To his teacher's amazement, Shankara was able to master almost all the ancient scripts in a short time. He even started writing commentaries on major religious scripts. Once he had a clear understanding of the ancient Hindu scripts, he started traveling across India, propagating 'Advaita Vedanta' and 'Dashanami Sampradaya.' During the course of his journey, Shankara's teachings were challenged by many philosophers and thinkers. He was even involved in a number of debates pertaining to Hinduism and its beliefs, but Shankara managed to astound all his doubters with his intelligence and clarity. He then went about propagating his ideas and was soon accepted as a guru by many.
Adi Shankaracharya is renowned for his spectacular commentaries on ancient texts. His review of 'Brahma Sutra' is known as 'Brahmasutrabhasya', and it is the oldest surviving commentary on 'Brahma Sutra'. It is also considered as his best work. He also wrote commentaries on Bhagavad Gita, and the ten principal Upanishads. Adi Shankaracharya is also well-known for his 'stotras' (poems). He composed many poems, praising gods and goddesses. The ones dedicated to Krishna and Shiva are considered most important among his 'stotras'. He also composed the famous 'Upadesasahasri' which literally translates to 'a thousand teachings.' 'Upadesasahasri' is one of his most important philosophical works.
Adi Shankaracharya founded four monasteries (mathas) – one each at the four cardinal points in India. Here are the four mathas founded by Shankara:
Sringeri Sharada Peetham
Dvaraka Pitha
Jyotirmatha Peetham
Govardhana matha
Shankara came to be known as Shankaracharya among his disciples. Though he had several disciples, four of them would go on to achieve great heights to be later considered as Shankaracharya's main disciples. They were also entrusted with the responsibility of heading the four monasteries (mathas) founded by Shankaracharya. Here are Shankara's four disciples:
Padmapada
Totakacharya
Hasta Malaka
Sureshvara
At the age of 32, Adi Shankaracharya retired to the Himalayas and is believed to have entered a cave near Kedarnath. He was never seen again and the cave that he entered is considered as his final resting place.