Food for Needy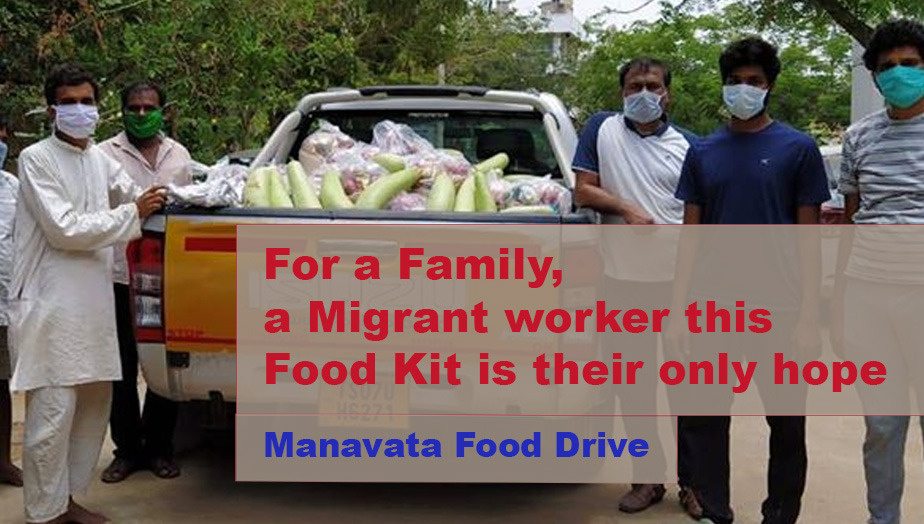 This Lockdown, Hundreds of thousands of people, children and the elderly are not getting food; they lack access to safe, nutritionally adequate food.
Daily Wage Earners, migrant workers and the poor are struggling to survive. Manavata has pledged to help each family with healthy daily food. We need your help and contribution!
Covid Grocery Kit

Rice (5Kg),
Mung Dhal (1kg),
Ragi Floor (1/2 kg),
Dry Chilli,
Sea Salt and
Mask
Health & Immunity Kit

Turmeric,
Ginger & Garlic,
Jeera & Dhaniya,
Black Pepper and
Sonti (Dry Ginger)
Barley (250gm) and
Sabja Seeds (100gm)
Vegetable Kit

Carrots,
Sweat Potato,
Onions,
Cabbage,
Bottle Gourd
Cucumber and
Seasonal Vegetables.
Cooked Food Drive

Rice
Jeera Rice
Spinach Dhal
Gongoora chutney (Leafy)
Curd Rice
Butter milk
2500
GROCERY KITS DISTRIBUTED
4250
FOOD PACKS DISTRIBUTED
Food Distribution Volunteers

Appreciate our volunteers who are continuously working for our COVID 19 food distribution program to help poor and needy families.
Thanks to all the volunteers who are helped for packing food kits and medicines Smt. Allam Naga Jyothi, Smt. Veni, Smt. Raji, Jyothi Vajjala, Siva, Vinod, Rajsekhar, Mahadev and team.
Also appreciate our rural chapters lead volunteers Anand Abhai, Anjaneyulu Byraju, Venkataramaraju and team for their initiavites in respective chapters.