Covid-19 attacks when our immunity is low. Yoga is the best way to stay healthy and build your immunity. Manavata specialises in teaching Classical Yoga. We have coached over 120,000 students across the world; Trained over 200+ Yoga Teachers; Provided over 350+ Yoga Therapies for diffently-abled children. Our Family Yoga Program has covered over 3000 familes.
Family Yoga                                   6-7 AM IST & 6-7 PM IST
Yoga for Beginners                       7-8 AM IST
Chair Yoga for Elders                    5-6 PM IST
Yoga for Police                              6-7 PM IST
Join the Free Program
354 Others have Joined
Guest Speakers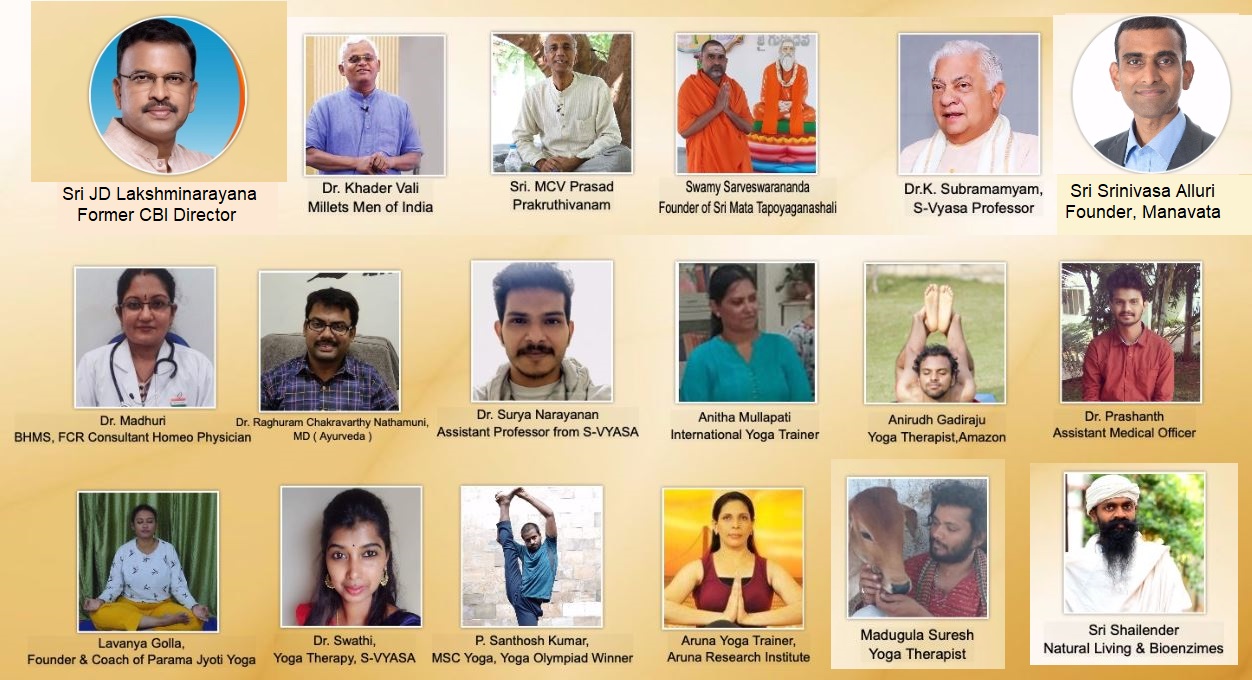 Leena
Thank you Srini for such a wonderful session.Good motivation for all of us to learn sanskrit words.It was a good spiritual experience.It was helpful to volunteers and manavata to understand and see how this has impacted and also to find ways to make it better.
Leena
Siva Reddy
"I grew up in manavata orphanage, started as a yoga teacher and now am one of the leading volunteers in the COVID relief program. I like what I'm doing and would continue to do so. Thank you"
Siva Reddy
Jaya Kala
"I am from USA. I followed your advice and it really helped me in getting better in terms of sinus. Your yoga sessions are a great stress busters and i suggest you keep up the good work even after the 41 days deeksha. Thank you"
Jaya Kala
Mrs. Vadivu
Thanks a lot for giving very informative session. This session s are very useful to build our immune power.In today's session lots of questions got answered which is really useful for our daily diet.Thanks a lot Dr.Swathi,Srinigaru and Bhavani for such a wonderful session
Mrs. Vadivu
Panduranga
The spirituality of how many hunches there are in the confessions of A to z.Nature is about health and Yama rules. Yoga is about humans ,spiritual strength And about the cycle of knowledge.Thank you so much sir for sharing knowledge to us.
Sreelatha
Thanks a lot for giving informative Session given by Dr. Madhuri garu .This session given lots of useful tips for our day to day life.By this session we can keep us in safe by using this preventive Measures.Thanks a lot Dr.Madhuri ,Srinu garu for such a Amazing Session.
Sreelatha
Vadivu
Thanks a lot for giving very informative session. This session s are very useful to build our immune power.this session helps us to learn lot of new things.Thanks a lot to all volunteers and Srinivas Garu for making these sessions successfull.
Shanti Shikaram
Leena is a remarkable teacher who shows tremendous passion and her passion for yoga is truly inspiring. Leena has shown great consistency from day one to till date.
How I benefitted:
Yoga has immensely benefited me.
Physically:
• I feel more flexible
• I feel profound strength in my body
• Further improved my postures and metabolic rate
• My migraine attacks have reduced
• My neck and shoulder pains have subsided magically
Enhanced Concentration and Meditation skills:
• Greater and positive start to my day
• Feel more calmer and profound
• Feel magical
• Definitely enriched my concentration and meditation skills
I strongly recommend anyone to take up sessions with Leena. Once again I would like to take this opportunity to thank Leena for all her time, efforts and making it simple to understand.