Covid-19 attacks when our immunity is low. Yoga is the best way to stay healthy and build your immunity. Manavata specialises in teaching Classical Yoga. We have coached over 120,000 students across the world; Trained over 200+ Yoga Teachers; Provided over 350+ Yoga Therapies for diffently-abled children. Our Family Yoga Program has covered over 3000 familes. Over 600 Online sessions & Webinars Conducted.
Family Yoga                                   6-7 AM IST & 6-7 PM IST
Yoga for Beginners                       7-8 AM IST
Chair Yoga for Elders                    5-6 PM IST
Yoga for Police                              6-7 PM IST
Join the Free Program
1,612 Others have Joined
Online Sessions & Webinars
Helped Families & Recovery Patients
Event
Organizer
Date
Location
Srinivasa Alluri
01/01/2024

India
Srinivasa Alluri
10/12/2023
Guest Speakers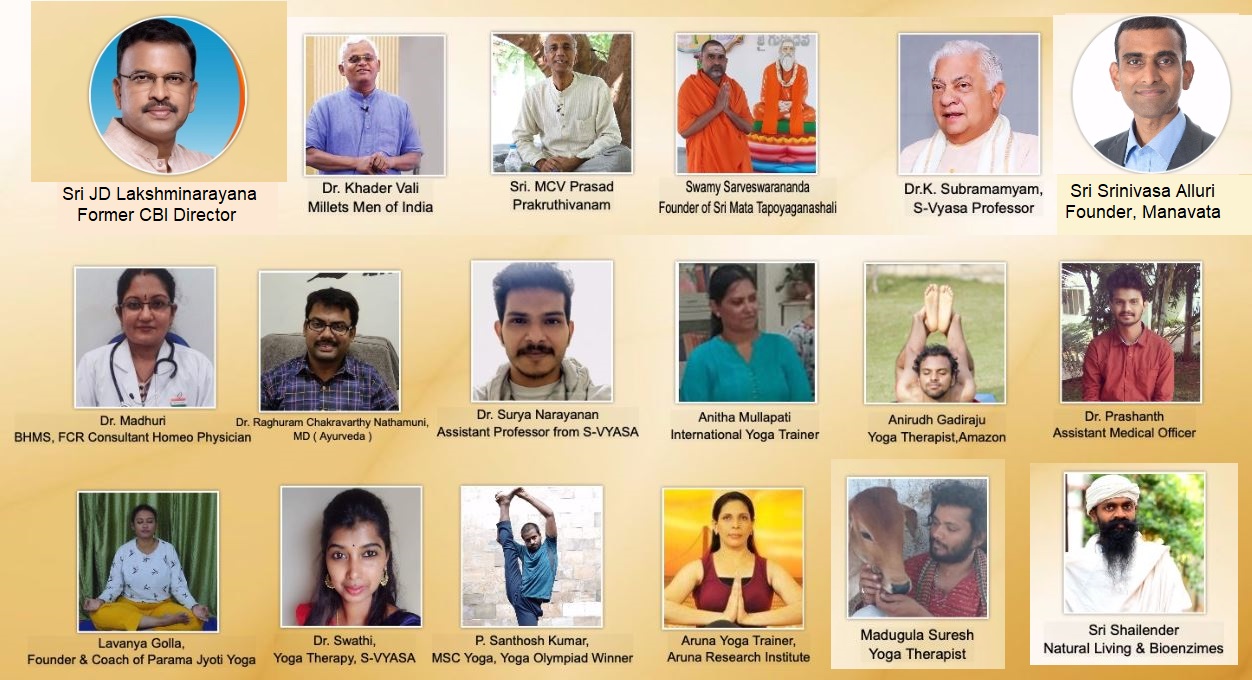 Leena
Thank you Srini for such a wonderful session.Good motivation for all of us to learn sanskrit words.It was a good spiritual experience.It was helpful to volunteers and manavata to understand and see how this has impacted and also to find ways to make it better.
Leena
Siva Reddy
"I grew up in manavata orphanage, started as a yoga teacher and now am one of the leading volunteers in the COVID relief program. I like what I'm doing and would continue to do so. Thank you"
Siva Reddy
Jaya Kala
"I am from USA. I followed your advice and it really helped me in getting better in terms of sinus. Your yoga sessions are a great stress busters and i suggest you keep up the good work even after the 41 days deeksha. Thank you"
Jaya Kala
Mrs. Vadivu
Thanks a lot for giving very informative session. This session s are very useful to build our immune power.In today's session lots of questions got answered which is really useful for our daily diet.Thanks a lot Dr.Swathi,Srinigaru and Bhavani for such a wonderful session
Mrs. Vadivu
Panduranga
The spirituality of how many hunches there are in the confessions of A to z.Nature is about health and Yama rules. Yoga is about humans ,spiritual strength And about the cycle of knowledge.Thank you so much sir for sharing knowledge to us.
Sreelatha
Thanks a lot for giving informative Session given by Dr. Madhuri garu .This session given lots of useful tips for our day to day life.By this session we can keep us in safe by using this preventive Measures.Thanks a lot Dr.Madhuri ,Srinu garu for such a Amazing Session.
Sreelatha
Vadivu
Thanks a lot for giving very informative session. This session s are very useful to build our immune power.this session helps us to learn lot of new things.Thanks a lot to all volunteers and Srinivas Garu for making these sessions successfull.
Shanti Shikaram
Leena is a remarkable teacher who shows tremendous passion and her passion for yoga is truly inspiring. Leena has shown great consistency from day one to till date.
How I benefitted:
Yoga has immensely benefited me.
Physically:
• I feel more flexible
• I feel profound strength in my body
• Further improved my postures and metabolic rate
• My migraine attacks have reduced
• My neck and shoulder pains have subsided magically
Enhanced Concentration and Meditation skills:
• Greater and positive start to my day
• Feel more calmer and profound
• Feel magical
• Definitely enriched my concentration and meditation skills
I strongly recommend anyone to take up sessions with Leena. Once again I would like to take this opportunity to thank Leena for all her time, efforts and making it simple to understand.
Kumaresan Rangasamy
I could not do this as asked. But, will capture one with my daughter. As some of you may know, she is 6 yrs now. We grow plants in our balcony and she is very good at taking care of that. Also, I am so happy to see the level of awareness she has in terms of healthy food. When she talks to her friends now, she even tells them something like "hope you had a healthy breakfast/food".
Kumaresan Rangasamy
Hema
Thanks for arranging such a great sessions every day sir.It was very helpful to us to improve our immune power.Thanks a lot to Srinu Garu for doing such a self less cause.
Vadivu
Great session with Dr.Khadar .. He just break the truth left and right in a confident way and had solutions to almost all the issues. Thanks once again all the Volunteers and Srinigaru to bring the great legend to our Manavata as a guest speaker.
Vadivu
Mr.Vadivu
Good toning and Flexibility boosting session today with RamanaJi. Relaxation and Meditation part really frees our mind very nicely after nice workout. Thanks a lot once again for all Organizers.
Mrs. Vadivu
Sreelatha
Thank you Srini sir and everyone, for your endless efforts in arranging these wonderful sessions everyday. Super session today with Kadar Vali sir.
Sreelatha
Vani Hedge
Thank you Srini Sir and all Manavatha volunteers for bringing these great sessions .Learning how to do right things for health thru' Manavatha platform.Really grateful for this selfless cause.
Vani Hedge
Mukund
This is excellent. Great feeling to be part of this effort. Thanks to all the Manavata Core team and Volunteers who made this possible with great Planning, Coordination and Execution.
Kumar
Ended the 24 hr session with a group click. This is really wonderful. Now, let us keep this momentum going and practice in a daily manner. Those who are able to participate and inspire other, good job.
Neeraja
Thank you very much Jaya Bharathi garu. Wonderful explaination on the benefits of each Asana. Thank you very much for all the organizers.
Vadivu
Nice session Padmaja. Learnt good amount of new techniques with breathing and mudras. Thanks a lot
Vadivu
Thanks so much Srinigaru, Really we don't know sanskrit slokas much and its meaning. Thanks for your patience and passion towards enlighten them and lead them in a right way. So happy to be part of your team.
Tulasi Varma
Thanks For giving such a wonderful motivational speaches these are very helpful in this covid situation.once again thanks for doing such a selfless service.
D.Srinivasa Raju
. I am very much grateful to you for giving me an opportunity. Also introducing a great person Srinivasa garu, who is doing wonderful service to the society. Wish you all the best.
Janardhan
🙏🏻Srini అల్లూరి sir గారి ప్రోత్సాహము, ప్రతిరూపమే మాకు వచ్చిన ఈ YIC సర్టిఫికెట్. సూక్ష్మ వ్యాయామాలు. సూర్యనమస్కారాలు. ఆసన ప్రాణాయామలు. షట్ క్రియలు మెడిటేషన్. థియరీ సైతం చక్కగా నేర్పించారు. అలాగే ప్రసాద్ గారు తనదయిన ప్రత్యేక శైలిలో చెప్పిన ఆసనం టెక్నిక్స్ cyclic మెడిటేషన్ మా ప్రాక్టీస్ ki ప్రత్యేకతను చేకూర్చాయి. శివగారి స్ట్రెచెస్ బాగున్నాయి. తులసిగారి కోఆర్డినేషన్ నొప్పించక తానొవ్వక అన్నట్లు వ్యహరించే స్వభావం, అందర్నీ సమన్వయ పరిచే తీరు ఒక విశేషం. నాతో పాటు ఈ yic కోర్స్ చేసిన తోటి వారందరికి అభినందనలు. అందరి మానవతల కలబోతే ఈ విశ్వామానవత సంస్థ. మానవతకు నా శిరస్సువంచి పాదాభివందనం. 🙏