Historic statue of Mahatma Gandhi unveiled at Britain's Parliament Square
Historic statue of Mahatma Gandhi unveiled at Britain's Parliament Square
A galaxy of political leaders led by British Prime Minister David Cameron and Finance Minister Arun Jaitley were joined by Bollywood legend Amitabh Bachchan and the Mahatma Gandhi's grandson Gopalkrishna Gandhi at the ceremony to unveil the 9-foot (2.7m) bronze statue of India's Father of the Nation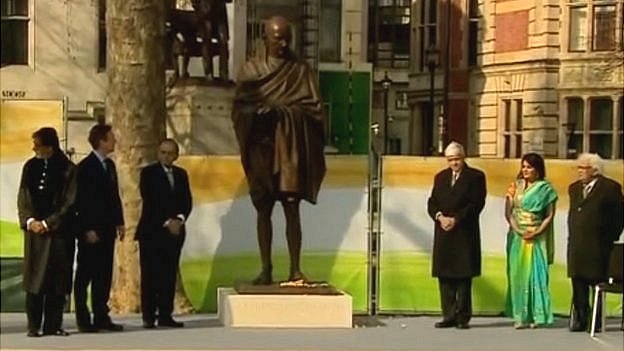 A historic bronze statue of Mahatma Gandhi was unveiled on Saturday, March 14, 2015 at the Parliament Square, Britain, standing adjacent to iconic leaders like Britain's war-time Prime Minister Winston Churchill and anti-apartheid icon Nelson Mandela.
A galaxy of political leaders led by British Prime Minister David Cameron and Finance Minister Arun Jaitley were joined by Bollywood legend Amitabh Bachchan and the Mahatma Gandhi's grandson Gopalkrishna Gandhi at the ceremony to unveil the 9-foot statue of India's Father of the Nation.
Gandhi is the first Indian and the only person never to have been in a public office to be honoured with a statue at the Square.